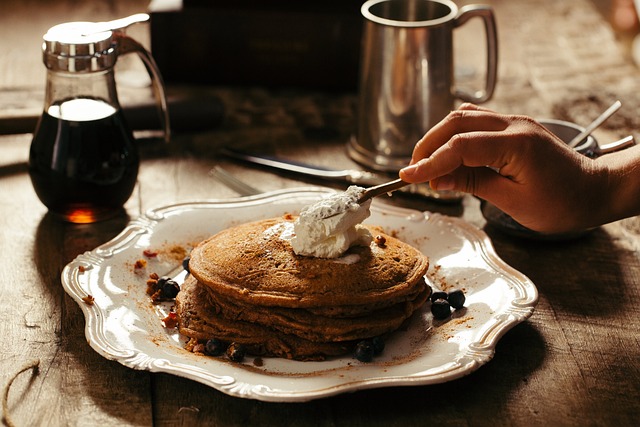 Keto pancakes are a great low-carb breakfast option for those following a ketogenic diet. While traditional pancakes are typically made with flour, sugar, and milk, keto pancakes use alternative ingredients to achieve a similar texture and taste without the added carbs. In this article, we will show you how to make keto pancakes with just three simple ingredients.

Ingredients:
2 large eggs
2 oz. cream cheese, softened
1/4 cup almond flour
Instructions:
In a mixing bowl, beat the eggs until they are light and frothy.
Add the cream cheese to the mixing bowl and whisk until smooth and creamy.
Gradually stir in the almond flour, making sure there are no lumps in the batter.
Heat a non-stick skillet over medium-high heat.
Spoon 1/4 cup of the batter onto the skillet for each pancake.
Cook the pancake until bubbles form on the surface and the edges start to dry out, about 2-3 minutes.
Flip the pancake and cook for an additional 1-2 minutes on the other side.
Repeat with the remaining batter.
Serve the pancakes hot with your favorite keto-friendly toppings, such as sugar-free maple syrup, berries, or whipped cream.
Tips:
To make the batter smoother, you can use a blender or food processor to mix the ingredients together.
If the batter is too thick, you can thin it out with a little bit of almond milk or water.
Be patient when cooking the pancakes, as they can take a little longer to cook than traditional pancakes.
Conclusion:
Keto pancakes are a quick and easy breakfast option that is low in carbs and high in protein. By using just three ingredients, you can make delicious and satisfying pancakes that will keep you full until lunchtime. So, why not give this recipe a try and see how easy it is to make keto pancakes at home!